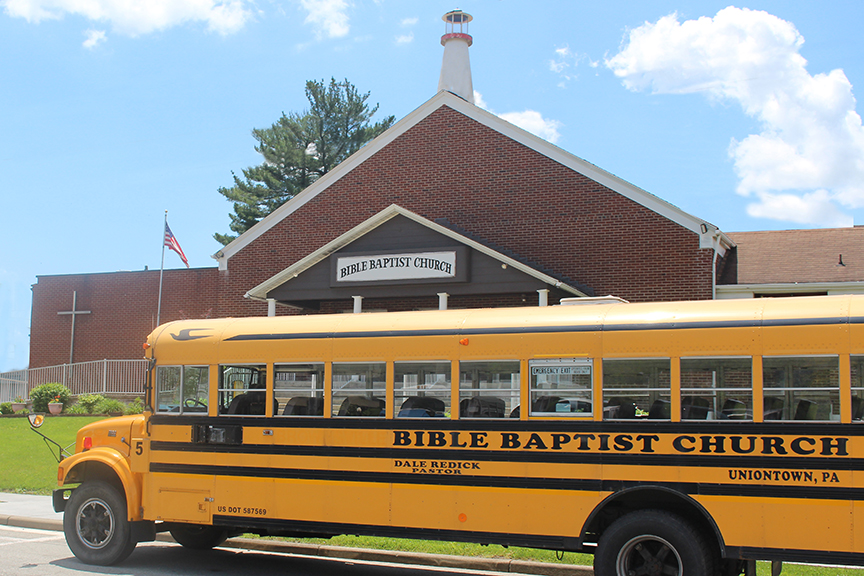 Visiting any church for the very first time can be difficult. Where do I go? What do I wear? What time should I be there? What programs are provided for my children? These and many more questions may surface.
We would like to put your mind at ease. Your first visit to Bible Baptist will be refreshing, friendly and enjoyable for your whole family. We want you to experience inspiring music, helpful teaching and preaching, friendly people, and a place where you feel welcome and at home! Here are a few answers to your questions and what to expect on your first visit.
1. Finding and navigating the building.
You can't miss our location on Evergreen Terrace, between Route 21 (McClellandtown Road) and South Mount Vernon Ave. There is parking available beside the church, across the street, and we have been given permission by WMBS radio station to use their parking. Feel free to enter the front doors or the side doors.
There is a convenient ramp to reach the front doors. All adult classes are on the main level. The Strength and Beauty Class, designed for ladies, is behind the gray partition to the left of the auditorium. The Men of Armor Class meets in the right side overflow of the auditorium. The Victorious Life Class, designed for adults and couples, meets in a room right next to the men's class. The Ambassador's class, for our senior citizens, is located to the right of the lobby as you enter. .
There are friendly people ready to direct you to your class. If you have children to take to class and you have entered through the front doors, turn right upon entering the front lobby and go down the stairs. If you are entering the side doors, you can go straight down to the children's department area, or up the stairs and to the right to reach the auditorium. If you are looking for the nursery, enter through the front doors and it is to your left off of the lobby. There will be friendly people there to greet you and to help you find your place.
There is an accessible restroom off of the lobby on your immediate left as you enter the building. You can also go down the stairs to the right and on your right you will find both men and women facilities.
2. What is available for my children?
Starting with an excellent nursery, there is something special for every age child from birth through college. On Sunday mornings we have clean, safe, well-staffed nurseries for children two years old and under. (Sunday evening and Wednesday evening nursery is available for children three years and younger.) For children three years old through sixth grade there are fun, friendly, Bible-centered classes. These classes are staffed with experienced, trained, friendly, and well-qualified teachers and helpers who make church exciting and memorable for your child. For students seventh grade through twelfth grade, we have a young ladies teen class as well as a teen class for the young men. The classes for three years old through kindergarten have Sunday school and church in their respective classrooms, providing a comfortable place that they have already become accustomed to. The primary classes and junior classes are directed by teachers to the junior church auditorium where they will have a fun time of singing, interaction, preaching and a snack. After the teenagers enjoy their class, they will participate in the Sunday morning preaching service upstairs in the main auditorium.
3. What is the morning schedule?
The Sunday school hour begins at 10:00 A.M. There is an open assembly for the children, before breaking up into classes. Children are downstairs, and adults are upstairs. At 10:45, classes are dismissed before the 11:00 A.M. service.
4. As an adult, what should I expect?
We have four adult classes from which you may choose. We offer a class for adult ladies and one for the adult men as well. We have a class designed especially for our senior adults. We also have a mixed adult class designed for all adults, and also married couples. At 11:00 A.M. we begin our morning service. You will enjoy our choir and special music. The music is always followed by a clear, helpful, and challenging Bible message from Pastor Redick. The entire service is just a little over one hour in length.
5. How should I dress?
There is no dress code at Bible Baptist Church for members or guests. Our ministry leaders and many of our church family dress in more traditional "Sunday" dress; however, our main goal is that you will feel welcome and comfortable on your visit here at Bible Baptist.
6. Do you have other services?
Yes. We have a Sunday evening service that is completely different in its atmosphere from our Sunday morning service. Our Sunday evening service begins at 6:00 P.M. Again you will enjoy uplifting music and spirited preaching. We also meet at 7:30 P.M. on Wednesday evenings. During this hour we dig into the meat of God's word as we study the Scriptures together as a church.
7. Am I expected to participate in the offering?
We do not invite you to Bible Baptist Church for your offering. We want our service to be a gift to you. We hope that you will find in this place a warm and family spirit, and receive the truth from God's word, whereby you can grow in God's grace. As our guest, there is no obligation to participate in the offering.
If there is something we have missed on this list, just give us a call, or ask someone when you arrive. Whether you are new to the area and looking for a church home, or if it has been a long time since you've attended church at all, we hope that your first visit to Bible Baptist Church will be an awesome experience. We exist to serve you and your family, and we are looking forward to meeting you personally. We hope you'll feel right at home from the very first moment you step into our church.