"O Sing unto the LORD a new song: sing unto the LORD, all the earth. Sing unto the LORD, bless his name; shew forth his salvation from day to day. Declare his glory among the heathen, his wonders among all people. For the LORD is great, and greatly to be praised..."Psalm 96:1-4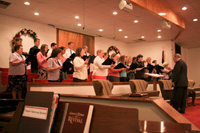 The goal of the music ministry of Bible Baptist Church is to sing praises to our almighty and sovereign God, to edify and admonish the believer, and to evangelize the lost.
Opportunities for service include the adult choir, Portrait of Grace, King's Daughters, Soldiers of the Cross, Daystar Singers, BBC Singers (children's choir), and a variety of duets and solos. We take seriously the pursuit of excellent music for our Lord and Saviour. The music program at Bible Baptist Church stirs our hearts, stimulates our minds, and motivates us for Christian living.choir singing
Our congregational singing consists of the classic hymns of the faith accompanied by the organ and the piano. This time provides us with the opportunity to lift our voices in praise to God.
Ephesians 5:19-20: "Speaking to yourselves in psalms and hymns and spiritual songs, singing and making melody in your hearts to the Lord. Giving thanks always for all things unto God and the Father in the name of our Lord Jesus Christ."
It is through song that many Christians, young and old, personalize the basic doctrines of our Christian faith. Our services are carefully planned so that there is ample time for all to hear the Word of God, as well as time to respond to God's love and to communicate with Him through the singing. Sometimes our song is praise. Sometimes our song is comfort. Sometimes our song is petition to God. Sometimes our song is proclamation of God's faithfulness. Our desire is to bring honor and glory to God through our music ministry and our congregational singing.