Our Pastor

---
Dale Redick was born in Westland, Michigan on November 19, 1960. He grew up in a traditional Catholic home, attended mass regularly, and participated in church events. As a young boy, he often wondered how God could understand his heart through repeated, ritualistic prayers; he felt that something big was missing in his faith. On April 29, 1979, Pastor Redick trusted Christ to save him. At this time, he discovered what he was missing in his faith, and began to enjoy a personal relationship with Jesus Christ.
He quickly developed a deep relationship with the Lord and wanted to learn more about Him. In 1982, he enrolled in Hyles–Anderson College; there he met his wife, Mimi. They were married on July 12, 1986. Dale graduated in 1988 with a degree in Pastoral Theology. That was a special year, as their daughter, Niki (Andrea Nicole), was born on October 21st.
---
In January of 1989, they went to Torch, Ohio, where he served as an assistant pastor for over two and a half years. It was here, on March 5, 1991, that their son, Dale Jonathan, was born.
Through a series of events, Pastor Redick felt that the Lord wanted him to start a church in Anderson, Indiana. In July of 1991, the Cornerstone Baptist Church was founded. The Redick family served the Lord here for eleven and a half years.
---
In 2002
In 2001, the Lord began to deal with Pastor Redick's heart about serving Him elsewhere. In August of 2002, the Lord began to open the door for the Redick family to serve Him in Uniontown, Pennsylvania. In November of 2002, with an overwhelming ninety – six percent vote, Pastor Dale Redick was voted in as the pastor of the great Bible Baptist Church of Uniontown.
Pastor Redick is an avid family man. The first two institutions in the Bible are the home and then the church; he is fervent about both of them. He enjoys serving the Lord with his family, but he also enjoys playing and working together. He and his wife, Mimi, work together as a team in many aspects of the ministry and family. Their children are now young adults.
These years have been filled with improvements to the facilities of the Bible Baptist Church and to the ministry operation. Because of growth the church has nealry paid off almost fifteen acres just four miles from our present location.
Pastor Redick feels that we not only have an obligation to our Lord, but to each other to do our best. We are living our lives for our Saviour, but also for each other. When the church, as a unit, achieves greater things than imagined, a bond is formed that will last forever. Pastor Redick is a man who knows about pressure and sacrifice. He lives his life passionately serving his Lord and the people of the Bible Baptist Church.
Our Ministry Team
This is a small part of our ministry team, but each teacher, bus worker, nursery worker and church member is a part of the BBC ministry team!
Pastor Dale Redick and his wife Mimi, both Bible college graduates, have been serving the Lord full time since 1989. The Lord has allowed them to minister in Uniontown since January of 2003.
Bro. Ken Kremer, our school principal, is a college graduate with multiple degrees. He and his wife, Jazmin, minister tot he youth of the Bible Baptist Church in a variety of ways. His commitment and love for the Saviour gives the BBA students a well balanced education.
Bro. Merv Showalter, chairman of our deacon board, and his wife, Margi, have been an integral part of the BBC ministries for many years. Serving the Lord in both the Bus ministry and the Music ministries, they work tirelessly to see that the Lord's work is furthered.
Bro. Rick Basso is our Junior Church Pastor. He and his wife Kim labor to ensure the youth are ministered to on their level.
Bible Baptist Deacons
Godly deacons assist in many various aspects of the ministries.
Bro Dennis Saksa and Diane.
Bro. Don Stillwagon and Patti.
Our Location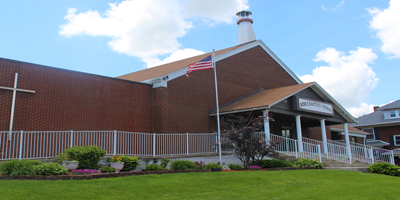 Our Doctrinal Statement
We
We Believe Salvation is by God's Grace Through Faith. We believe that Jesus was born of a virgin, lived a sinless life, died on the cross as payment for our sins, and rose from the dead on the third day. We believe that the only way a person can go to Heaven when he dies, is to first place his faith in the payment that Jesus Christ provided with His shed blood on the cross. Bible Baptist Church is a Baptist church. Once a person is saved by putting his faith in Jesus, we are commanded to be baptized by immersion to show to others what took place when we trusted Christ. Baptism is in obedience, not to save us but to show that we have been saved. We believe in participating in the Lord's Supper on a regular basis to remember the payment Jesus made for us, and to express our love to Him for that payment. The Lord's Supper is not kept to take us to Heaven, but to reflect on Jesus and His sacrifice.
We Believe the Bible is the Word of God. We believe the Scriptures to be the inerrant, infallible Word of God, as found within the 66 books from Genesis to Revelation. We accept the Textus Receptus manuscript as the foundational material from which we derive the King James 1611. The Old and New Testament Scriptures were written by human authors divinely inspired and edited by the Holy Spirit, preserved, unbroken and passed down to us today. (II Timothy 3:16; John 10:35; II Peter 1:20, 21; Psalm 119:89)
We Believe that the Family unit should be strong and healthy. The first institution God made on earth was the family. Programs in the church are geared to help build strong families. Bible Baptist Church provides fellowship, friendship, and support services through our social activities. We strive to be protective of our children. Background checks of everyone working with children are required.
We Believe in the Trinity We believe God is a person, eternally existing. There is one true God existing in the unity of the Godhead. There are three eternal and coequal persons; God the Father, God the Son, and God the Holy Spirit. They are the same substance but distinct in subsistence. There is one Godhead made up of three persons who are the same in attributes, power, characteristics and desires. (Romans 1:7; Hebrews 1:8; Acts 5:1-3; Matthew 28:19; I Corinthians 8:6)
We Believe in the Diety of Jesus Christ We believe that Jesus Christ is the Son of God because of His character, His miracles, His influence, His power to forgive sins and set people free from Satan and because He claimed to be and died making this claim and arose victorious over death. (Mark 12:6; John 5:22, 23; Matthew 26:63, 66; John 14:9; John 1:1; Hebrews 1:8; John 20:28; Romans 9:5; I John 5:1-5)
We Believe in the Virgin Birth We believe Jesus Christ to be the one and only Saviour of mankind. We believe Jesus Christ to be eternally God and to possess all the attributes of Deity. We believe that the Lord Jesus Christ was virgin born, that He was God incarnate, and that the purposes of the incarnation were to reveal God, to redeem men, and to rule over God's kingdom (Matthew 1:20; Luke 1:30-35; Isaiah 7:14)
We Believe that the Only Requirements for church membership are salvation and baptism by immersion. People who are saved and baptized at Bible Baptist Church are voted in as members unless they request not to be. A person may join from another Baptist church by transfer. Persons wishing to join from a church other than a Baptist church must give testimony of their salvation and their immersion baptism, and thereby join by Christian experience.
We Believe that It Is Our Responsibility, as outlined in the Bible, to spread the Gospel to our area, nation, and world. The purpose of the church is summed up in the commission Christ gave His disciples: "And Jesus came and spake unto them, saying, All power is given unto me in heaven and in earth. Go ye therefore, and teach all nations, baptizing them in the name of the Father, and of the Son, and of the Holy Ghost: Teaching them to observe all things whatsoever I have commanded you: and, lo, I am with you alway, even unto the end of the world. Amen" Matthew 28:18–20. Fulfilling the great commission is our highest priority; each facet of church activity is geared to relate to this purpose.
We Believe that Christians Should Glorify the Lord, for He is Worthy. The basis for all standards are found in the Bible. We attempt to glorify our Saviour with our conservative beliefs in many areas, including music, social issues, dress, and behavior.
We Believe that a Church should be filled, not with spectators, but participants. We have a first-class way of doing things. We are careful stewards of God's money. We give an accurate accounting once a month of every check that is written: to whom, the amount, and the purpose of the check. We strive to be honest and respectable.